Chris Steele from Karalee, QLD
"I've had the Ezi Reach Cargo Tray fitted to my LC200 Landcruiser for 12 months and am exceedingly happy with it. It has carried loads well over 150kg (floor tiles, tools) and the slide worked perfectly. Having a bad back, the slide makes putting everything from shopping to horse tack into the vehicle painless.
Previously I had to sit on the tail gate and twist/shuffle goods into the loading area. Now I slide out the tray and load/unload simply and comfortably. I especially like the ability to simply unclip and removed the whole mechanism for vehicle cleaning or using the 3rd row of seats. The fact that there are no permanent fixings or modifications required to fit the slide is a real bonus. I have no hesitation recommending the Ezi Reach Cargo Tray."
Debbie Woodhead - Brookfield, QLD
"I have been using the Ezi Reach Cargo Tray in my Toyota Landcruiser for the last six months and I wouldn't be without it. I was very reluctant to buy a Landcruiser because I am only 5'2″ tall and it's a very large vehicle. Even though I find the car really easy to drive, my biggest problem was reaching into the boot space to retrieve items. By the time I had opened the tailgate, I could reach no further than a few feet in.
Then Jon came along with his Ezi Reach Cargo Tray and everything changed. I no longer had to climb into the back of the car to get my grocery shopping out. I just slide out the tray and everything is in easy reach for me. As we have horses I do a lot of towing and lugging around of heavy feed bags and hay etc. Its now so easy to slide out the tray and lift the bags of hard feed without straining my back. The best thing is that the tray fits into my car without removing the rear seats, so if I do need to use all eight seats it only takes moments to take out the tray and we're ready to go.
I think the Ezi Reach Cargo Tray is fantastic. It really has become the answer to my prayers"
Andrew Powertune - 4x4
"The Ezi Reach is a great product and it certainly lives up to its name – it really makes reaching your cargo easy. It is well designed, strong and looks good too. Load it up and slide it in and you are ready to go. The tie down feature is so much better than anything else I've used as you have so many choices you can tie down anything safely and easily.
I really love the emergency stop feature also; just release the handle and the tray stops. Whether you are a tradie, a delivery person or just use your ute for domestic purposes, the tray is invaluable."
John Price - Logan, QLD
"I purchased an Ezi Reach cargo tray a little over a year ago and I'm very happy with it. It has changed the way I feel about my dual cab ute and the way I use it. Before having the tray I often got so frustrated with the way I could never get anything out of the back of my Triton that I would give up and put stuff on the back seat. Climbing into the back was very difficult for me as I have a knee injury.
Now it is so easy to use the cargo area – just press the handle and pull out the tray. My wife loves it too for grocery shopping and carting the kids sporting equipment. I would recommend the Ezi Reach to anyone who wants to simplify their life."
David Wittenburry - Adelaide
"I must say that the quality of the tray is far superior to what I had imagined, and also, that I haven't lost as much usable space as I thought I might. The addition of the side compartments has proved to be extremely handy. As we are on a road trip, the Ezi Reach tray has been used dozens of times in the past week and we couldn't be happier.
Simply, it is now just so easy to pack and more importantly access anything in the back of our car. Why didn't we do this sooner, it is brilliant. Thanks again."
Paul Kelly - Sydney
"Received the unit on the day nominated. It was well packaged and this suggested that the unit would be well made. It is a top quality item and does Australia proud. It has been fitted to my vehicle and works well. No complications or assembly difficulties. I am looking forward to my first camping tour out back. Once again well done."
Ralph - QLD
"We had an Ezi Reach Slide fitted to our new Nissan Narava Crew Cab ute in June as we were leaving for our six week trip though North Queensland, just love it. I realized while I was stacking the ute with various gear I was having certain amount of trouble when in the ute well lifting the gear to front, I am not as young as I once was, the next day I was over at our mechanics getting extra wiring done for the second battery and on his coffee table in the customer lounge was a flyer about Ezi Slide. I thought what a great idea.
Next morning I rang them and after talking to them, they agreed to come from Ipswich to the Northside of Brisbane to fit it. With us getting ready to go the next morning we did not have the time to go over there and they had work this side of town to do and it worked in nicely for both of us. Done and dusty in about 45 minutes of fitting time. I had had draws and cupboard before and as we now are caravaners I did not want to go that way what I needed was a slide and after 6 weeks of travel I am far being disappointed in fact I am very happy with the slide."
Nev - QLD
"Received tray in perfect condition. All installed yesterday in my Navara D40, and works fantastic. Thanks for a great, quality product. Cheers!"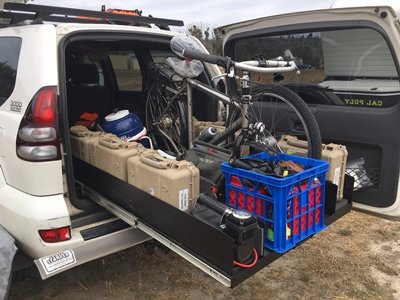 Jim Otterson
"I'm very happy with it! Nice workmanship, and you are very easy to work with. This is a sweet set-up, happy to answer questions. Solid craftsmanship, great materials - you won't be disappointed! "